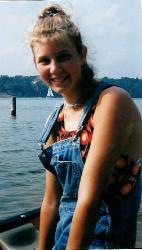 Meghan Carroll Puls
April 20, 1985 - September 25, 2001
"When I grow up I want to be a photograph (photographer)."
"This popsicle is cold; my head is getting a freezer burn."
"When you get married I'm going to be your 'best maid'."
Meghan C. Puls
Sprouts-- an impatient 10 year old-- aptly named by her basketball friends because she cut her bangs so short they stuck straight out. When they finally started to grow out, they looked like little sprouts. #21-- her favorite number that she would never get to wear on her new basketball jersey for Seton Keough. Megs, Meggy, Moose, Meg-han—terms of endearment spoken by family and friends. All of these words describe a beautiful, blonde-haired, blue-eyed 16 –year-old who was abruptly taken from us as a result of an automobile accident on September 18, 2001.
Meghan and a friend were coming home from a local shopping mall after buying homecoming dresses when the car in which she was a passenger left the roadway, hit a guardrail, and came back onto the road. Meghan was taken to the University of Maryland, Shock Trauma Center, where she battled severe head injuries for a week before passing away on September 25, 2001. The care and support from she received from the doctors and nurses at Shock Trauma was at the highest level…..but Someone more powerful than they needed her more than we did.
Meghan was friendly and out going, caring for others and having a smile on her face from the time she could talk, until the day she left us. As a child, when she would play on the playground, kids would come up to her and want her to play with them. She had an uncanny way of drawing people to her. Once you met Meghan, she became your friend for life. She made you feel like you were the most important person in her life. That trait carried through grade school into high school, and also encompassed the world outside of school.
When Meghan was 10 years old, she was diagnosed with Type I Diabetes. Meghan was insulin dependent, and took all that came with the disease in stride. She would frequently give "lessons" on diabetes to her friends, teammates, and anyone who showed an interest. Meghan was not afraid of the disease, or anyone's opinion of it.
Meghan was very involved in sports. She played rec and travel soccer for the Soccer Association of Columbia's Lady Grayhounds, rec and travel basketball for the HCYP Cougars, and rec lacrosse for the HCLP. Basketball was Meghan's favorite sport, and she played on the more competitive AAU Maryland Waves basketball teams from the time she was 12 years old until one month before her death.
Meghan attended Resurrection-St. Paul School, in Ellicott City, from Kindergarten through Eighth grade. She was involved in activities for both her school and church. Meghan participated in the school's productions of Puttin' On The Hits and the 8th grade theatre production, as well as playing on the girls CYO basketball team. Meghan was also an alter server at the Church of the Resurrection.
Meghan was very excited to attend Seton Keough High School, and played JV soccer and lacrosse, and JV and Varsity basketball. She was co-captain of the JV basketball team that went 16-0 in her freshman year. Meghan made the Varsity basketball team in her sophomore year, and was proud she was part of a team that excelled not only in basketball, but also in life. She was looking forward to an exciting junior year when she could finally wear her favorite #21 jersey, when her dreams were tragically cut short. Seton Keough has graciously retired Meghan's number 21, and has prominently displayed her jersey next to the Seton Keough bench in the gym.
Meghan's enthusiasm for living life to the fullest, and helping and caring for others has inspired her family and friends to create the Meghan Puls Foundation. Proceeds from all of our fundraisers will benefit organizations that exemplify Meghan's ideals.
For a project in grade school, Meghan was asked to make a Christmas gift tag, and put her thoughts on it. She wrote, "If I could give a gift to the world, I would give everyone happiness." In her short 16 years, she gave that gift to everyone with whom she came in contact.